Olivia and I are both greatly endeared and devoted to the concept of modesty—both inner and outward. As such, we have both realized that dressing fashionably doesn't have to be a violation of that modesty. Wearing fun colors, mixing and matching, layering, using fun accents…all of these are things that can make us as girls & women feel alive, confident in our own unique personalities, and ready to show the world bits and pieces our essence in Christ.
Olivia and I love to see people finding their own personal styles and vibes, and to encourage that we've decided to start a fun fashion feature. Once a month, we'll be posting pictures and fun fashion tips that will hopefully inspire you to uncover some of the great personality that God has given YOU and spread a little joy in that expression.
So, without further ado...
Autumn is well upon us now, and for me it brings a sense of both nostalgia and aspiration. Who says we can't have the new without the old and faithful mixed in?
---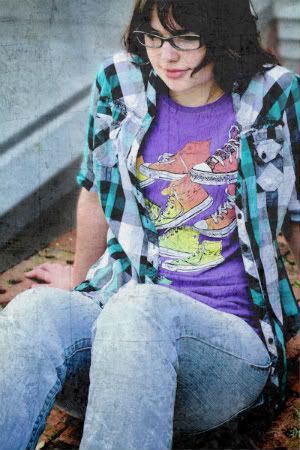 What happens when you take something traditional like plaid, and mix it with a graphic tee? Well, this is one thing I absolutely LOVE to do! Taking ordinary pieces and putting them together to make something extraordinary is probably my single biggest thrill when it comes to style.

One thing I've taught myself to see is that colors aren't always what they seem on first appearance. If you immediately think two colors are going to clash, take a minute to look again. You might find something unique and fun!
In this cozy fall ensemble, a simple purple scarf with a little bit of creativity can evolve into a fun and unique outfit. Try mixing a few layered necklaces or a brightly colored headband with this look to make it a little more interesting!
This month's question...
---
Do you think seasonal colors should be strictly adhered to?