Abigail and I are both very blessed by God to have been given two amazing mothers. They have been two of our closest friends and always a great source of wisdom. Our moms have both chosen to be fulltime home school moms and have invested greatly into our lives in a multitude of ways. They also both greatly enjoy writing. Abigail's mother blogs at
Dancing Barefoot on Weathered Ground
and has written a fantastic book,
"In Faithfulness, He Afflicted Me"
. My mom hasn't had the chance to get her own blog up and going, or to write a book yet (though it's a dream for her), but still loves writing. (Scratch that! My mom just started a blog,
Radical Womanhood
, go check it out!)
With both of our moms being the holders of much wisdom, and with their mutual love for writing, Abigail and I decided to share our mothers with you all once a month. Hence the new feature, "Pearls of Wisdom". Every month, our moms will answer two of your questions each. To ask a question, just comment on this post. Make sure to add the "Pearls of Wisdom" button to your sidebar, so your blogging friends can come over and check it out too!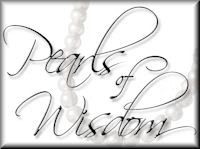 We both hope that God will teach you through the wisdom of our moms the same way He does every day of our lives. Now, go comment with your deep and thought provoking questions! :)